Not only does the hot summer weather damage your skin, but the humid weather also has significant effects. Therefore, besides facial skin, you should also take more care of your body, especially the skin of your hands. Because in fact, the skin of your hands is the "reporter" of your true age over time. Because the smoothness of the skin or wrinkles, roughness is a "red flag" sign that shows that it is time to take care of the skin of your hands from aging. Don't be so busy with housework that you ignore these signs of age. Therefore, today. Huttuscon will suggest you effective hand skin care methods, to help your hands stay soft and smooth on "wet" days like today.
I. Why should you take care of your hands?
Daily skin care is no longer a strange thing to everyone, especially women. However, most of us only care about the skin of our face, neck or body but forget that the skin on our hands also needs to be "loved". The reasons below will make you see how important it is to take care of your hands.
Export will have black dots on the skin: The skin of the hands is often exposed to direct sunlight, at this time the UV rays will cause the melanin under the skin to produce more and cause the phenomenon of dark spots, melasma. , age spots in the skin. These dots do not have a certain size and often tend to spread to other areas. If this situation is not overcome soon, it will make the skin of your hands become increasingly "ugly".
Skin appears wrinkles, flabby: This is a sign of a lack of collagen nutrients in hand skin cells. Every day our hands are exposed to a lot of factors directly affecting such as: sunlight, smoke, dirt, detergents, cosmetics, chemicals. However, the skin is not taken care of, so the decline in collagen is not difficult to understand.
The skin of the hands has thinned, showing blood vessels on the skin: If you see blue veins appearing under the skin, this is a sign that the skin of your hands needs care. The appearance of blood vessels not only affects the aesthetics of your hands, but also makes you less confident. This can also be a sign of poor health that needs attention.
Dry, flaky skin: With skin that lacks water, lacks moisture, cells will gradually die on the skin. Plus the fact that you don't use moisturizers on your hands will cause these dead cells to slough off more and more. This situation, if prolonged and not corrected, will make the hands lose a lot of aesthetics.
Effects on facial skin: It sounds unrelated, but actually taking care of your hands every day also makes it easier for you to take care of your face every day. You need your hands and, more precisely, your fingers to apply makeup and massage your face. Think if your hands are dry and rough, no matter how good the product is, your hands will affect the skin on your face more or less. Not to mention that facial care products will easily penetrate dry hands, reducing the effectiveness of the product when in contact with other areas of skin that need care.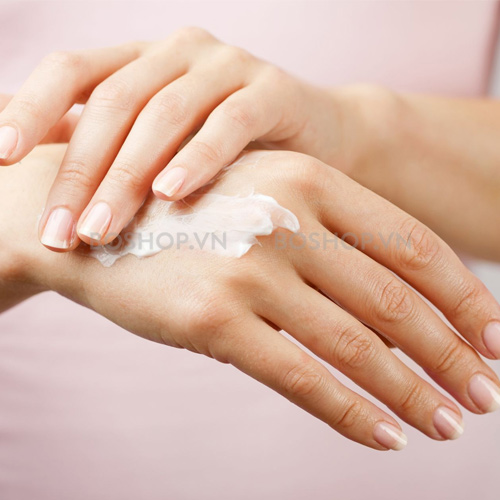 In fact, hand skin care, foot skin care does not have much effect on your health. However, think about it if people shake your hand, hold your hand and your hands are rough and dry then you will definitely lose some confidence. Regular and properly moisturizing hands will help you own soft, aging hands. From there, you also easily create sympathy for the opposite person. So, focus on taking care of your hands as you would your own face.
Read more: Hand skin is allergic to dishwashing liquid: Causes, signs, and treatment
II. What causes the skin hand to wrinkle?
Due to the weather
The weather can affect the skin of your hands. On cold days, your skin will often be drier, climate change is also a cause of wrinkled hands due to lack of moisture.
Frequent exposure to harmful chemicals
Dishwashing liquid, fabric softener, laundry detergent, floor cleaner, etc., collectively known as detergents, often have many chemical components that are harmful to the skin. Not only that, washing hands too many times also makes the skin of the hands dry and wrinkled over time.
Due to weak muscles
There are medical conditions that the body has that can also make the skin of the hands wrinkled, dry, such as diabetes, which can reduce blood circulation to the hands. This makes the skin of the hands more susceptible to irritation. In addition, eczema and psoriasis are two inflammatory skin conditions that can dry out hands and skin, making them wrinkled.
III. Hand skin care methods for housewives
1.  Use rubber gloves when doing housework
Every day, women have to come into contact with many dirt, cleaning products and different water temperatures,… during the cleaning and sanitizing process. In the long run, these are the factors that directly cause the skin to lose its inherent moisture, become calloused, rough and gradually appear basic signs of skin aging such as floating, dry or dull.
Not to mention, cleaning chemicals will accelerate the oxidation of the skin of the hands, making the skin more susceptible to irritation and sensitivity. Some other subjective causes come from the body, or have skin diseases such as eczema, .. and there is no proper treatment regimen.
Therefore, the use of gloves is also one of the most essential things to minimize contact with harmful agents on the skin of the hands. Besides, wearing gloves will protect your skin from stains, dangerous locations when cleaning the house so that your hands are not scratched while doing housework.
2. Pay attention to shielding
Many people often think that on humid days without sunshine and little dust, careful shielding will not be necessary. However, this is a misconception because the humid weather with drizzle still has many harmful acids, dust, bacteria and impurities in the atmosphere that it has "fallen" through. Therefore, if not carefully covered, the skin of your hands will also be in danger as usual.
3. Clean skin regularly and properly
In wet weather, cleaning the skin is also an important thing that you need to keep in mind. In addition to washing your face, you also need to wash your hands and body regularly, especially when exposed to humid air and rain. Therefore, even if there is no sun or not too much sweat, regular cleaning and skin care can also help you prevent rashes, allergies, … when humidity is high in the air. gas.
Every day, you have to be exposed to a lot of dust, dirt, so you often wash your hands with soap to ensure health safety. However, too much exposure to soap can make the skin of the hands lose its natural moisture. There are even worse cases where the skin of the hands will become dry and flaky and cracked.
Therefore, when cleaning your hands, you also need to know a few rules:
– If it is not really necessary, you should not abuse soap. Because soap contains many detergents and triclosan. When exposed, too much to triclosan will make the skin prone to allergies or often dermatitis. Besides, if it is more dangerous, it can reduce the stimulation and contract the joints.
– To be environmentally friendly as well as protect your own health, it is best to use hand sanitizers with natural extracts such as jojoba oil, olive oil, aloe vera and additional moisturizing. wait.
– Should wash hands with warm water, avoid using too hot water that will easily burn the skin or affect the natural protective layer of the skin. Do not use a hand dryer, but use a hand towel or paper towel.
– Those are the right ways to wash your hands and an effective way to care for your hands at home.
4. Use a moisturizer
A moisturizer is not just a cream to be used only for dry or cold skin, but it needs to be maintained in most weather, even when it's humid. If you are afraid of using moisturizers that can make your skin look greasy and uncomfortable, you can prioritize products with natural, benign ingredients and ensure lightness when applied to the skin.
5. Pay attention to the selection of cleaning products – house cleaning
The hot season is the time when you have to regularly clean, wash dishes, clean the house to remove moisture, standing water, etc. Therefore, the skin of your hands may suffer from dryness and roughness. , wrinkling and flaking due to constant exposure to cleaning products. Therefore, you should prioritize products with natural ingredients that do not contain chemicals to best protect and care for your hands.
6. Exfoliate regularly.
Besides the above methods, you should also exfoliate your hands regularly and "mask" every week:
You can use homemade moisturizing hand masks with ingredients like avocado, an egg yolk, lemon juice, etc. Then, apply it to your hands and keep it for 20 minutes. then rinse.
Or if you are a lazy cat girl, do not have the patience to make a moisturizing hand mask with a natural formula, you can use more specialized exfoliating products. This will help remove the dead skin layer, and stimulate the creation of new, more beautiful and healthy cells.
7. Apply sunscreen
One of the signs that many people worry about is age. The older you are, the more likely you are to increase skin pigmentation, and the more dark spots appear, causing unsightly skin.
In addition, sunlight and ultraviolet rays play a very important role in the production of harmful free radicals, preventing skin cell regeneration and causing skin aging. Therefore, it is necessary to pay attention to protecting the skin regularly to avoid these dangerous effects. You should limit sun exposure, especially between 10 am and 3 pm. Shelter in the shade can be sought, wear long-sleeved clothing that covers the whole body, wear gloves, sunglasses, a wide-brimmed hat, and use a broad-spectrum SPF ≥ 30 sunscreen. Weather agents such as Smoke and hot sun will also damage your skin, especially your hands. Therefore, it is best not to forget to use sunscreen for the skin of your hands. You can choose to buy specialized sunscreen products with moisturizing ingredients to help protect and hydrate your skin safely.
8. Care for the skin around the nail
Many people have the habit of taking care of their nails but forget about the skin around the nails, but in fact, this skin area also needs special care. Use specialized creams for nails and the corners of the nails to keep the skin soft and less flaky. In addition, you should also trim the skin around your nails about once a week.
9. Vitamin supplement
Vitamins B and E play an important role in nourishing the skin and nails. Make sure to get enough of these vitamins from food sources, fruits or supplements to take care of your skin and hands to stay healthy and smooth from the inside.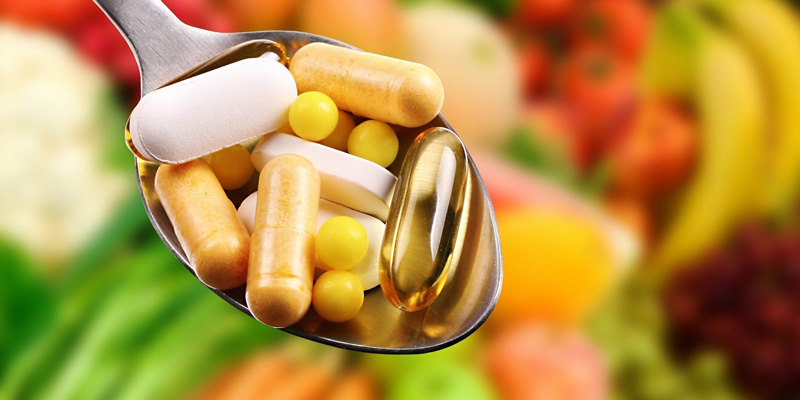 10. Drink enough water every day
Not only taking care of the outside, the skin of the hands also needs to be hydrated from the inside. When the body is sufficiently hydrated, your skin will "automatically" be smooth, white and pink. It is also a scientific skin care method that anyone should not ignore. So, drink enough water and avoid leaving the body in a state of "thirst".
If you often have to be active in hot weather, you should drink more than 1.5 liters of water per day. There used to be a trend of drinking up to 3-4 liters of water a day to beautify the skin quickly, but experts say this is a beauty method with no scientific basis you should not apply.
11. Masks for hands
Masking the face is a familiar thing for women, but masking the hands is quite strange to everyone. However, this method of caring for wrinkled hands is also effective. Use a mixture of aloe vera and honey to make a face mask. They both help protect the skin of the hands from harmful chemicals while providing nutrients to the skin of the hands, helping to care for the skin of the hands and improve the rough condition effectively.
How to do this: You wash the aloe vera, remove the yellow water, use a spoon to get the gel mixed with a little honey and then apply it to your hands, leaving it for about 15-20 minutes. Apply regularly 2-3 times a week, the condition of peeling, roughness will be increasingly improved.
12. Take care of your beautiful hands with natural products
Hand care and skin care from natural products at home are chosen by many people thanks to their easy, safe and cost-effective advantages. From the ingredients available in your kitchen, you can already take care of and restore the skin of your hands. Here are some of the most commonly used hand care methods that you can save and apply.
Soft hand care with lemon
Lemon is an ingredient that is always available in every home's refrigerator, you can use lemon juice to keep your skin clean and softer. Lemon essential oil is rich in vitamins and citric acid, these ingredients work to remove rough dead cells, whiten and at the same time promote the growth of new skin cells.

If you want to use lemon to nourish your hands, follow these steps:
Thinly slice fresh lemon, then sprinkle with a little sugar, to increase the exfoliating effect.
Use a slice of lemon to gently rub your hands for about 2-3 minutes to remove dead skin, dirt accumulated on the skin. In dark skin areas, you can leave it on for longer to help brighten the skin.
Then rinse off with water. You should maintain this practice every day to keep your hands smooth.
In addition, you can also combine lemon juice and honey in a 1:1 ratio.
Then, apply the mixture directly to the skin of the hands, leave it for 15 minutes, then rinse with water.
How to take care of smooth white hands with cucumber
Not only popularly used to beautify the skin of the face, cucumber also has a very effective hand skin care effect. Healthy ingredients are considered a benign and extremely safe product, even sensitive skin can be used. Follow these steps to take care of your hands with cucumber:
Preparation: Fresh cucumber, fresh milk without sugar, lemon juice
Cucumbers are washed and pressed to get the juice. Then mix well with milk and lemon juice in a ratio of 2: 1: 1.
Apply the mixture to cover the entire hand skin, combine gently massage until the hands are dry.
Wash your hands thoroughly with warm water. For optimal results, you should do this method 2-3 times a week.
Proper use of cucumbers will help keep the skin of your hands smooth and naturally white. It also reduces calluses and dry hands. You can also use the above method to take care of the skin of your feet with the same effect.
How to soften hands with coconut oil
Coconut oil has long been a natural ingredient used by women a lot in beauty. The fatty acids in coconut oil help moisturize the skin of the hands effectively, overcome the condition of cracked and rough hands quickly. So, there is no reason that we do not use coconut oil to care for wrinkled hands at home.
How to soften the skin of your hands with coconut oil simply at home:
Rub your hands together for a few minutes, until your hands are hot, use virgin coconut oil to spread evenly on your hands.
Combine gently massage in a spiral for about 2 minutes, wait until the coconut oil is completely dry.
It is best to apply coconut oil to your hands at night before going to bed. Allow the coconut oil to penetrate deep into the skin and
wash your hands with warm water the next morning.
Persist in doing it regularly every day, after only 3 days you will see that your hands have become much softer and smoother.
Note: When applying hand care with natural ingredients, to ensure safety and optimal results, please pay attention to a few things:
You should use fresh citrus fruits with natural whitening effects, avoiding hyperpigmentation.
Limit going outdoors after just using the method of exfoliating, smoothing the skin of your hands at home. Because at this time, your skin is very sensitive and easy to catch the sun, causing darkening.
If you use lemon to nourish your skin, to increase the effect you can apply moisturizer to the skin of your hands right after drying the skin. This will help prevent dry, cracked skin.